Fedora Takeout
Mon-Fri 830am-6:00pm
Breakfast, lunch, afternoon high tea / aperitivo, dinner.
Make your order wherever you are!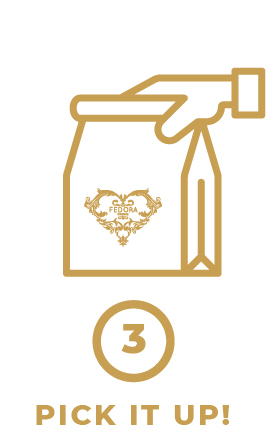 Once your order is confirmed you can pick it up in half an hour!
Worldwide Cuisine Experiential Learning Spring 2021
"To eat is to incorporate a territory" Jean Brunhes
The dishes are listed in the menu without a specific ordering since the distinction between antipasto, primo, and secondo is not in use in many cultures.
Salads
LATIN AMERICA & MEDITERRANEAN FUSION

Roasted tomato and carrot, frisée salad, spring onion, olives, boiled eggs, pumpkin and poppy seeds, and creamy guacamole dressing

regular€ 7,00

large€ 10,50

SOUTHEAST ASIA

Thai larb salad with curried chicken and khao kua (roasted rice powder)

€ 7,00
Main courses
SCANDINAVIA

Honey-scented gravlax, fermented vegetables, crunchy rye flatbread and gravlax mustard sauce

€ 7,00

WEST AFRICA WITH INDIAN INFLUENCES

West African peanut curry with Durban masala, served with wholegrain rice

€ 7,00

FUSION

Worldwide vegetable ramen - Where different cultures and flavors meet: from Italy to the Americas, through the Asian continent

€ 7,00

INDIA

Pulau with octopus, chickpea, and vegetables served with mint raita - Pulau is a traditional indian dish made with basmati rice (Vegetarian option available)

€ 7,00

THE BRITISH ISLES

Pork chuck slow-cooked in ale, sweet potato and apple puree, Yorkshire pudding

€ 10,50

CENTRAL & SOUTH AMERICA FUSION

"Picanha asado" with house-made mole sauce, roasted vegetables - Meat cooked medium as per the Argentinian tradition

€ 10,50

Ask for daily specials
Tutti i giorni dalle 15:00 alle 19.00 (Ultimo ordine ore 18:00)

Available

High Tea

Selezione di sandwich

Torta e biscotti fatti in casa

Tè o Caffè€ 5.00

Aperitivo

Selezione di sandwich

Panini Gourmet

Un bicchiere di Prosecco o Vino€ 5.00

Aperitivo Cocktail

Selezione di sandwich

Panini Gourmet

Un Cocktail a scelta dalla carta€ 6.00
CROISSANT

Croissant vuoto€1,00

Croissant alla crema€1,00

Croissant alla crema di pistacchio€1,00

Pan Au Chocolat€1,00

Danesi alla marmellata€1,00

Cookies (package)

Baci di Dama alla farina di pistacchio e cioccolato bianco€3,50

Biscotti alla vaniglia€3,50

Biscotti Cocoa Spritz€3,50

Torte da credenza

Plumcake alla vaniglia e cacao (a fetta)€1,50

Torta al cioccolato dairy free (a fetta)€1,50

Torta del giorno (a fetta)€1,50

Panini (8:00-15:00)

Pane toscano prosciutto crudo, mozzarella e rucola€2,50

Focaccia con prosciutto cotto e fontina€2,50

Panino ai 5 cereali vegano€2,50

Monoporzioni

Tiramirum

biscotto al miele e zucchero muscovado bagnato al miele e rum, crema di mascarpone con vaniglia Madagascar, spruzzata con copertura al cioccolato fondente

€4,50

Profiterole

bignè farcito con crema pasticciera alla vaniglia Madagascar, ricoperto con glassa al cacao e chantilly francese (panna montata con vaniglia)

€4,50

La regina

tartelletta di pasta frolla al cioccolato 66%, foderata con un pralinato croccante alla nocciola, riempita di un cremoso alla nocciola con un inserto di coulis di pralinato alla nocciola, ricoperto da una ganache montata al cioccolato 55%.

€4,50

La 70%

biscotto al cioccolato fondente 70% senza farina, mousse leggera al cioccolato fondente 70% e glassa al cacao

€4,50

PASTICCERIA

Cioccolatini / Barrette al cioccolato€ 35.00Kg

Torte da dessert€ 30.00Kg

Torte da credenza€ 20.00Kg

Mignon€ 1.00
SOFT DRINKS
Acqua

- Bicchiere€ 0.50

- Bottiglia 0.5 l€ 1.00

- Bottiglia 1.5 l€ 1.50

Coca Cola, Fanta, Coke Zero, Chinotto 33cl€ 2

Centrifuga€ 3.50

Succhi di frutta 20cl€2

Tè freddo 33cl€2
Caffetteria
CAFFE:

Espresso€ 1.00

Caffè macchiato€ 1.00

Caffè americano€ 1.00

Caffè decaffeinato€ 1.10

Orzo€ 1.10

Cappuccino€ 1.20

Caffè latte€ 1.20

Latte Macchiato€ 1.20

ALTRO

Latte (bicchiere)€ 1.00

Tè & infusi€ 1.50

Cioccolata calda€ 2.50
Vini & Drinks
Vini al bicchiere

Rossi, Bianchi e Bollicine

5€

Cocktails

Aperol/Campari Spritz5€

Negroni5€

Negroni Sbagliato5€

Bellini/Mimosa5€

Moscow Mule5€

Gin/Vodka Tonic5€

Cuba Libre5€

Cocktail Martini/Vodka Martini5€

Cosmopolitan5€

Mojito5€

Pineapple Punch5€

Sour Punch5€